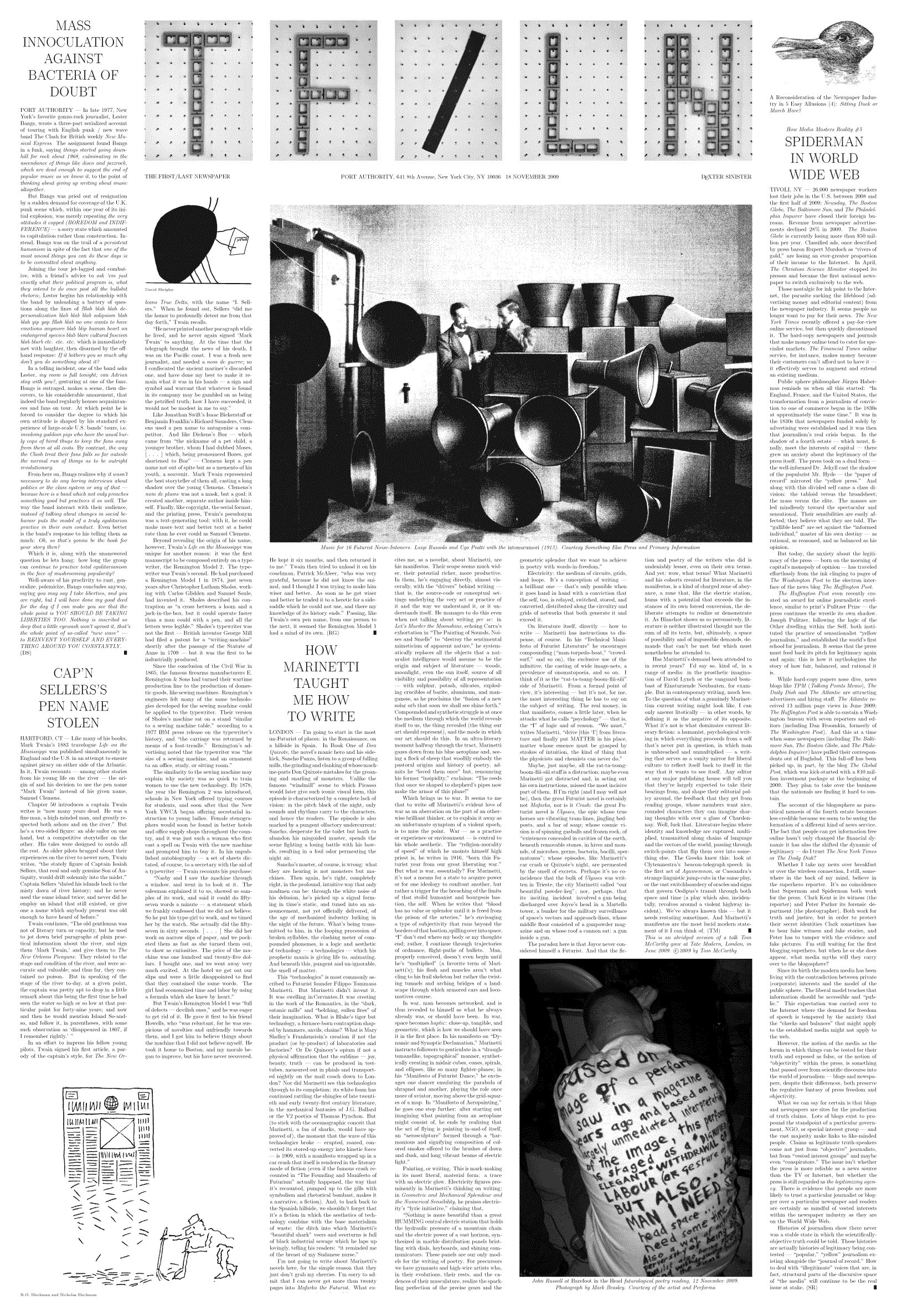 For the newspaper fans out there, who shudder every time someone says "newspapers are dead," The First/Last Newspaper is for you (and me). This extremely large broadsheet, printed in black and white on both sides (with the logo TF/LN) is the work of
Dexter Sinister
, the nom de crayon of David Reinfurt and Stuart Bailey, masterminds behind
Dot Dot Dot
.
TF/LN is being given away at the Port Authority (641 8th Ave, NYC) directly across the street from
The New York Times
(a well-known smaller broadsheet). Rather than try to explain this effort, take a look at the issues:
Here
are
some
links to
PDFs
.
The newspaper is jam-packed with text, much of it witty, ironic, and droll. My favorite lead story is "
Mass Innoculation Against Bacteria of Doubt
." Oh, and then there is the scoop about Claude Levi-Strauss titled "Engineer & Tinkerer Caught in Bricolage." Now that's news!
BUT WAIT. This just in: "FIRST/LAST NEWSPAPER TO FOLD AFTER ONLY SIX EDITIONS. Dexter Sinister will commemorate the printing of their final First/Last Newspaper and closing of their Port Authority site this Saturday (tomorrow) 21 November from 7 to 9pm. Visitors will be able to collect remaining stock produced during the paper's brief three-week existence. . .
'Also present in the Port Authority Space, at the corner of 41st Street and 8th Avenue, will be Gareth Spor's version of Brion Gysin's seminal 1960s Dream Machine — a stencilled cylinder placed on a revolving turntable with a 100 Watt lamp inside to produce a stroboscopic flicker that induces a supposedly hypnagogic state when viewed with eyes closed. . . Available will be portions of fish & chips wrapped in old issues of TF/LN. Due to concerns over ink poisoning, particularly related to old lead type, the tradition of wrapping fish & chips in newsprint has largely been phased out despite industry workers' claims that modern newspaper inks such as those used in Queens pose no such health risks. Today's chip paper, tomorrow's news."